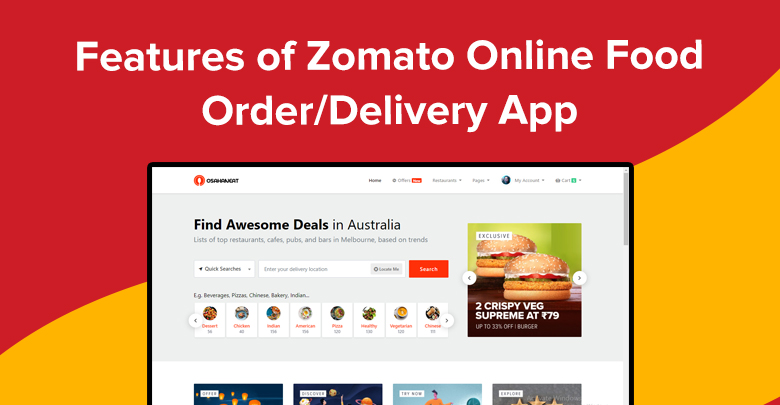 Zomato is one of the top food delivery and restaurant finder app around the world. Currently, they are providing food delivery service in India, Lebanon and UAE. They spread across as a restaurant finder in 24 countries and available in 10 languages globally.
Zomato has lots of unique features that address customer needs. They provide you with the best app that helps you with dining out, table booking, takeaway and discoveries.
Following are some of the features of Zomato App which I like most.
Table Booking
Table booking is one of the most significant features which is required to build a successful restaurant business. The user can easily book tables whenever they want. Table booking provides convenience to the user as well as prevent disappointment.
Zomato has more than 1.4 million restaurants in their list where you can find a suitable restaurant to book table for your need. Most of the restaurants allow table booking from 2-8 persons.
Scheduling Order
If you wish to order your food in advance, you might want to schedule the time of delivery. This will help you to get your order delivered when you without having to wait for anything. The automated order system processes an order without you having to do anything order than just relax and wait for your order. You can have two type of deliveries either you can pick up your food on your way home or you can have a delivery executive deliver the food for you. You can pay for your food online or in cash to the delivery person.
GPS Live Tracking
The user needs an update every now and then, once the order is placed. The GPS live tracking and the automated system helps in getting the update for the user. The user gets to know if their order is accepted, is in the kitchen, on the way or delivered. The user is able to track the delivery executive and can know his exact location. Also, the user gets an access to the delivery person's phone number. So, they can get in touch with the person and query about the order delivery. If there is a change of address, it can be communicated through the chat system or through a direct call to the executive.
Follow Your Friends
Everyone loves to eat their favorite food. Zomato provides an option for foodies to follow their friends so that they can know what their friends eat and what they like. They can also discover more from the places nearby.
Self-Pick-Up
You can enjoy offers and promos as well as no need to wait for your delivery. Zomato provides you with a feature that you can order your food online pick it up from the restaurant by yourself. This option saves your time as well as you can have your food on the go.
Restaurant Profile
The restaurant has full control over their profile in the Zomato. They can provide useful information to their user to help them out. The restaurant has the option to provide details like food menu, images, phone number, direction to the restaurant and reviews.
Rating System for Food and Restaurants
A rating system shows your overall progress. The ratings that are provided to certain food order or a restaurant help other audience to judge the food before ordering. The ratings that are provided to the delivery executives help in making the user experience more personal. The delivery executive doesn't remain just a spot on the GPS map, but is much more involved in the system. The rating system bridges the bond between the on demand food delivery app and the user and the user is provided with enhanced user experience.
Inbuilt Promotional Codes for Discounts
Zomato provide an easy option to apply promotional codes to get discount on the order. These discounts go from 10% to 90%. Coupon Codes are listed on checkout page and can be applied easily with just a click.
Option to give tip to delivery person
Zomato app gives option to give tip to the delivery person. If you are satisfied with the delivery you can give a tip to the person who brought you food.
If you want to make a online food ordering website just like Zomato then we suggest you to use the Osahan Eat Website Template. It is responsive template made with Bootstrap. User friendly design & layout. It also has option of react version. This is the best you can get for your new website.