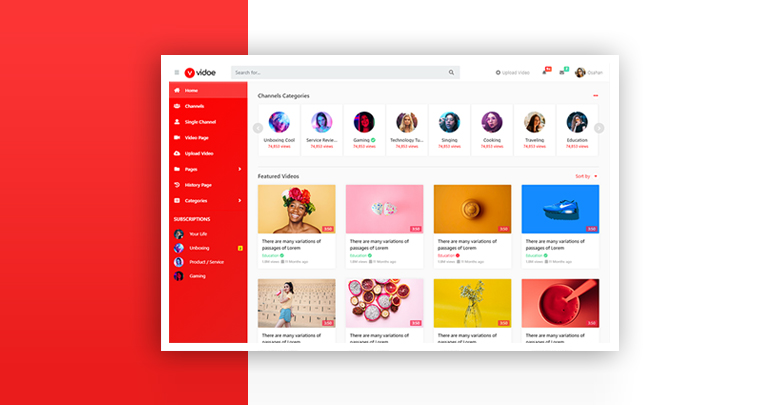 The importance of having dashboards for different websites is unequivocal. Whatever the services or products are the websites about, the need of having a dashboard for them is immense. Day by day it is growing with the increase of business websites. So it opens a Broadway for smart people to start a business of providing a perfect dashboard for the people who need them. If you are one of those smart ones thinking about launching a great dashboard that people take by storm, here's a guideline on how to build a great dashboard that everyone loves.
Explore the market
Take a deep breath and admit when you are thinking about building a dashboard, there are plenty of them already in the market. So, if it is not great and different from the traditional ones, it is not going to be one of the best selling items in its category. Don't worry. After going through a quality research, you will discover what makes a great dashboard. This is why it is important to see the trending products and find the reasons behind their success. The best part is, you can get inspiration and conceive your dream dashboard idea that you think will reign the market in days to come.
"Exploration is the engine that drives innovation. Innovation drives economic growth." – Edith Widder
If you check more items in the market you will be able to bring innovation to your one. Check as many dashboard items as possible. Make sure you go through the most popular and successful ones.
Decide the key performance indicators (KPIs)
Understanding your key performance indicators (KPIs) is the key to creating a great dashboard that your users love to interact with. Your KPIs must be the first thing users see as they start using your Dashboard. Every application, from mobile fitness apps to powerful online analytics software, is built around a few key performance indicators. Google Analytics tracks conversions and traffic, while MyFitnessPal tracks calories in, calories out, and weight loss. We recommend you to study a variety of applications, from Twitter to Google Analytics and inspect how they make KPIs. Make sure your dashboard does not miss any of the essential ones.
Craft the structure
When you have researched and got inspiration from many similar items, you better start working on your project. So, crafting the structure is the right thing to do at this stage. The look of your dashboard is definitely the first thing the users will consider while purchasing your dashboard. Despite having all necessary functionalities, your dashboard is not going to be one of the people's favorite if that does not look good. Here are some things to do for a better presentation.
Organize wisely: Keeping the right metrics at the right place is something so important. Make your dashboard navigable for the users so that it becomes easier for them to manage things.
Choose the right color: Picking the right color is a big part of your creativity. Your previous research will help you choose the right color for different parts of the dashboard.
Keep things simple: Building something innovative doesn't mean you have to have everything in there to draw attentions. Most importantly, make sure you have all the essential features without making it a mess. Don't miss the basics. In a word, keep it short and simple.
Must have features
A dashboard may have plenty of features. Make sure your dashboard template have all the core features mentioned below.
Tables
Notifications
Tasks lists
Cards (for different types of forms and easier visualization of information)
Charts (donut chart, line chart, bar chart)
Google Maps
Add as many as you want but don't miss any of the above.
Sorting and filtering
A dashboard is not something that the website visitors will have anything to do with rather it is something that helps the website owner to keep tracks of the website performance and present metrics for different user actions on the websites. So what a website owner will mostly do on his /her dashboard is knowing the data and sometimes sort them and filter them whenever necessary. Make sure your dashboard has that in the system.
Technologies
It does not matter what technologies you build the dashboard with. But the advanced technologies will always give you the updated functionalities. Sometimes the customers check what you've used to build the product. Here comes the list of the technologies you may use to build a great dashboard.
Bootstrap: The most popular HTML, CSS, and JavaScript framework for developing responsive, mobile first projects on the web.
Font: Google Fonts.
Font Icons: Font Awesome gives you scalable vector icons that can be customized using CSS.
Stroke 7 Icons: A complete set of 202 thin stroke icons inspired by iOS 7.
Chartist.js : Responsive, scalable and good looking charts.
Bootstrap Notify : This plugin helps you turn standard Bootstrap alerts into "growl" like notifications.
Google Maps : Plugin for viewing maps.
Unsplash : Free high-resolution photos.
Support and update
Building a great product is not enough to top the list. You have to offer support for your product. Your users may run into some problems along the way. If you don't fix those issues, they will not consider to use your dashboard anymore. In fact, support builds a rapport between you and your users and keeps your business alive. You have to update your product on a regular basis. There could be some other dashboards in the market launched after yours. If they provide some attractive features which your one does not have, you will no longer be among the best. Keep updating your dashboard template with advanced technologies and features.
If you follow this whole post, hopefully, your dashboard will lead the competition. Please don't forget to share this post with your friends and team members. Happy developing!
Source: Themehunt